Home
»
Events
Upcoming Events


We are almost a week away from January 31, so be sure to preorder your spectacular soups and sandwiches in time! You can either drop off tickets to the office, or easily order online right here!
For more fun, click the link below and tune in for this week's Soup-er Spectacular news! More importantly, keep your ears open for the mystery prize clues. Can you guess what they are?


Below, is an order form for your convenience.
You may even place an order for your spectacular food or raffle tickets today, through our online giving site by clicking right here!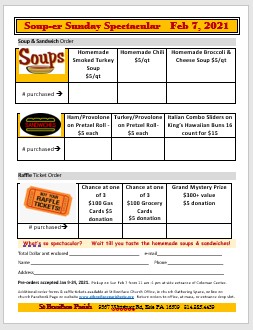 Information you need to know:


Pre-orders and payment will be taken from January 9-31. These can be dropped at the church office, placed in the outside drop slot to the right of the entrance door, or placed in the collection basket. Prefer to stay indoors this winter? Remember that orders can also be placed online by clicking right here!
Food pick-up will be Sun. Feb 7 from 11am – 1 pm at the side entrance of the Coleman Center. Stay in your car, we will bring your food to you that day. If you got Bonibuns from the Knights of Columbus - we will be using the same way to distribute our soups and sandwiches with 2 lanes for cars to come one way through the parking lot.
We will also be offering raffle items: 3 - $100 gas cards, 3 - $100 grocery cards, and a larger mystery prize worth at least $300. These raffle tickets can be purchased using the enclosed order form. There will be extra tickets available in the Gathering Space and at the church office. Raffle tickets can be purchased on the website and on the parish Facebook Page. Tickets can be turned in up until the last Sunday mass on Feb 7 and they will still be available for purchase until 1:00 Sunday Feb 7.
Questions, call Melanie at the office weekdays 9-1:30pm at 814.825.4439.
Special Note: The Smoked Turkey Soup is a specialty of Greg Biletnikoff who has cooked so many fine foods for our fundraisers. Other parish cooks are stepping up with their own great soup & sandwich recipes. The food will be, as we like to say, "SPECTACULAR." Join in, order some, and enjoy!
Thank you for your participation and support,
St. Boniface Festival Committee




**Reminder at this time all nonessential parish and non parish events and rentals are canceled until further notice.
SCHEDULING - If you are interested in renting the Coleman Center or the School Cafeteria for a party or family function call the parish office at (814) 825-4439 for more information.